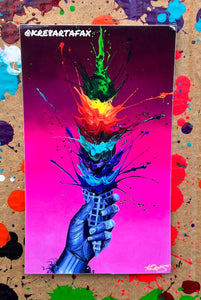 Kre8 Your Flavor Sticker
Not sure how many time I've wanted to paint this one. Every time I do, I feel the same way. As a kid, ice cream was definitely a highlight of the day. Now we just try to get through the day without losing our minds. 
So find your flavor of choice and own it. If you're happy that's by choice, if you find yourself in a bad mood, again that is by choice. Have honor and pride. Hold yourself accountable. Because now all we have is our word. Believe in yourself, that's the only truth we have left...
From yours truly, Kre8.
- Gloss vinyl sticker
- Scratch and weather resistant 
- 5" x 3"
- Option: Autographed by Kre8  

*All sales final
*Please allow 2-4 weeks for shipping & handling