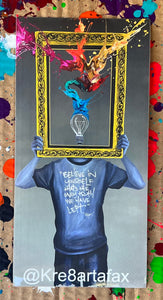 I Am The Light Sticker
This piece is about becoming your own masterpiece. It's easy to be a Champion for a day. It takes everything you have to make it everyday. Everyday is a battle to stay on top and the moment you slip, is the moment someone else will.
Become the 1% of the people that truly take pride in building something rather than the 99% that feel entitled to have something and never work for it. Never complain about what you don't have and mad at someone who has what you want. Work for it, become your own masterpiece.
From yours truly, Kre8.

- Gloss vinyl sticker
- Scratch and weather resistant 
- 6" x 3"
- Option: Autographed by Kre8  

*All sales final
*Please allow 2-4 weeks for shipping & handling