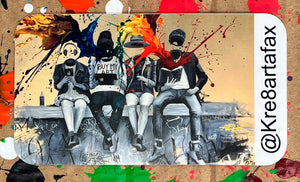 Lost Love Sticker
This piece represents the saying "Just because you know where you're at, does not mean you are not lost." But just because you are lost does not mean you are not in the right location. You are just finding your way.
Love where you're at because it will put you where you want to be. It's not about knowing the path it's about walking the path. Because there's some places that a GPS will never be able to find.

From yours truly, Kre8.
- Gloss vinyl sticker
- Scratch and weather resistant
- 2" x 4"
- Option: Autographed by Kre8   
*All sales final
*Please allow 2-4 weeks for shipping & handling