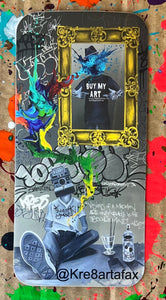 Visionary Sticker
This piece is a self portrait the visionary captures. The artist, its a raw form, it's never about the artist. Only about the work he or she creates. The work they put out reveals their intentions, no need for an introduction.
You have to be simple, and complex at the same time. If you act accordingly, the camera will capture the truth... No matter how taboo the truth is.
From yours truly, Kre8.
- Gloss vinyl sticker
- Scratch and weather resistant 
- 5" x 2.5"
- Option: Autographed by Kre8  

*All sales final
*Please allow 2-4 weeks for shipping & handling